Join our Club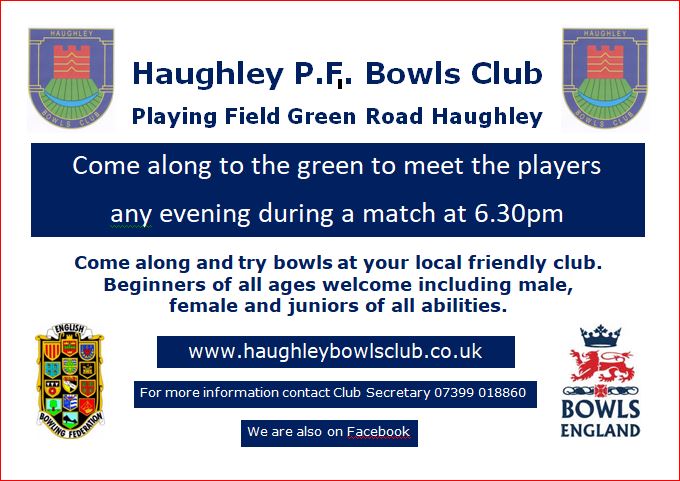 Come and join us to play Bowls
New members and how to join
Haughley Bowls Club Free Taster Sessions
Whatever the weather, if you're interested come down to the club to register your interest.
Please bring flat shoes, all other equipment is provided. We can be found on Playing Field Green Road Haughley by the Ron Crascall pavilion where there is ample parking.
Come down to see the game in action and have a go yourself. Please contact us at any time, one of our members can meet you during the day, evening or weekend, for a 'roll up' and to show you how to play. All equipment will be provided. All we ask is that you have flat shoes on the green
Perhaps you are a current regular player looking to join a new club or have just moved to the area, you will be made most welcome. Please use the contact form below or contact one of our club committee on the contact page.
We play games and matches to suit all levels, from friendly roll ups, league matches, in house and county competitions, so whatever standard you are, there is a game waiting for you on our green.
If you are working or at school / college you can you come and trial play with the coach. It's an ideal way to start without the commitment for paying for a season. Then if joining as a member you pay (£30 adult / £10 junior for the season,) then pay just £2.00 rink fee for a whole afternoons / evenings session. Great value and it's cheaper than the gym. As a bonus the first year of membership is FREE, yes no membership fee for the first season.
We look forward to meeting you soon.
What is bowls?
Bowls is a simple game, easy to understand, with some practice it is easy to take part, very sociable and whatever level of fitness or health you have, will keep you fit with gentle exercise. Please look at the guides below for more detailed information on the game, its roles and improving your game.